Hard to believe that we're already halfway through October and it will soon be Halloween, and the end of BST (or DST if you're in the US of A!)
You probably started the month swilling lager from enormous steins to celebrate Oktoberfest, but the thoughts of those nice folks at Miele were on other matters; namely putting together not one, not two but three promotions, all running consecutively throughout October! Our cups runneth over…
This one's only available until the end of the monthso you'll need to act swiftly to benefit from these promotional discounts across a good cross section of the Miele Professional range.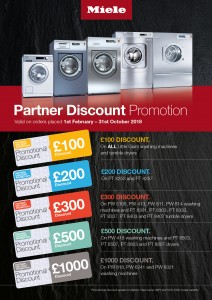 The good news is that two of the ranges on this promotion have had their discounts increased so Little Giants have an additional £150.00 discount and selected Benchmark machines are now enjoying a £400.00 to £1100.00 rebate per appliance!
So if you'd like to arrange a free site survey to check which Miele machines are the best fit for you, just give us a call on 0333 332 1998 and we'll be right with you.
And the other two promotions? We'll get to that later…